New Year 2008: What's Your Goal?
With 3 days until the New Year, there are 2 obvious things that come to mind: reviewing the year behind us, and looking forward to the year ahead.
I think that as I get older, time is passing more quickly. This year certainly went by quickly. From January to May, I was in the Spring semester of my Sophomore year in college, attending the University of Southern California. I don't even remember the classes I took. Considering how fast everything happens, why worry about the present? Even when classes start getting stressful, I should remember to just do my best.
A couple days ago, we watched Ratatouille, Disney/Pixar's animated movie which premiered June 22, 2007. In the words of food critic Anton Ego: "I need some fresh perspective."
Over the summer, I interned with Google Santa Monica, my dream job. Like last year's internship with JPL, my intern host is a Trojan, which helped me land the job. The Trojan Family is real, and I'm definitely glad about that. I worked QA for Picasa Web Albums, Google's photo sharing service. They work very hard, often releasing new features which don't get much media attention (despite all the attention on Google as a whole). I will forever remember my experience there, and I recommend that you apply for a position with them, if you have the skills they're looking for :)
I went to BigSeminar X in Atlanta, GA, which was my first time to Georgia. I visited Georgia Tech, which I'd heard about via a fellow Google intern. It's a really neat place with lounge and study rooms, and a game room with bowling, lots of pool tables, and video games. Bowling! Real bowling, not Wii bowling ;)
Shortly after, I went on a cruise with my grandpa, although he felt ill after the first day and decided to go home early. I went on the rest of the cruise myself.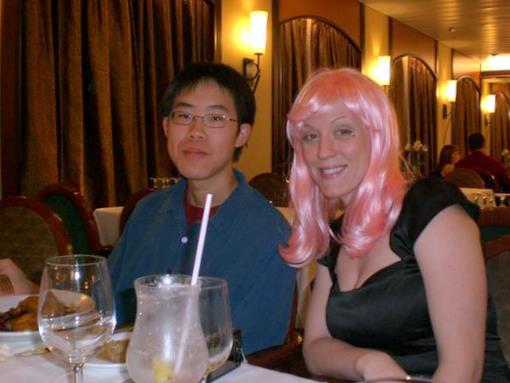 I met some unusual people on the cruise.
The rest of the year was mostly spent working on Invision Plus.
Time really passes quickly. There used to be a site called DOSLIFE which I heard about through the Langalist, and it's gone now, but archived by Archive.org.
Archive.org is really an impressive resource. Without it, lots of information would be lost forever. But is there really any use for this old info?
For 2008, I have 1 goal planned so far: A $1000 AdSense Day. I've made $20.52 today and it's only 1:46 PM… :)
Maybe there are some things you have to get done before 2008 hits. Such as… have a baby?