Plugin Upgrades for the New Year
I'm going to write a little post about 2005 later, but for now, I thought I'd make a log of what I've been doing. I have installed and activated the latest versions of these plugins:
Akismet
WP-PageNavi
Related Posts
Subscribe To Comments
WordPress Database Backup
Of course, Akismet and the Backup plugin are included with WP 2.0. But as far as I could tell, they're not enabled by default (at least for upgrade installs). This is a good thing.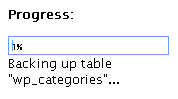 Added later: Well, the first time I tried to use the backup plugin, and it failed. Froze right here (left it for about 20 minutes).