Google Pizza Party Two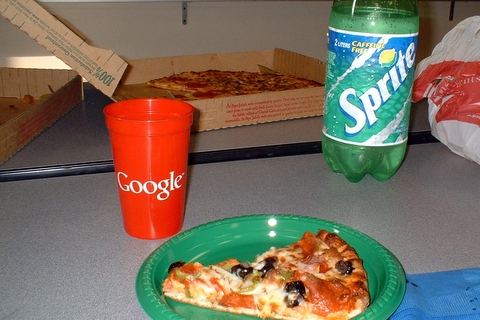 My second act as Google Pizza Ambassador was a study break designed for CS 102 students. We have our final on Monday, two days from today. I sent an email to everyone in the CS 102 class, thanks to a grading sheet mailed to me by a TA, which listed everyone's email address. However, only two people replied — although those two people did show up. We met from 4 to 6 PM, and I ordered two pizzas and a Sprite from the Papa John's near USC.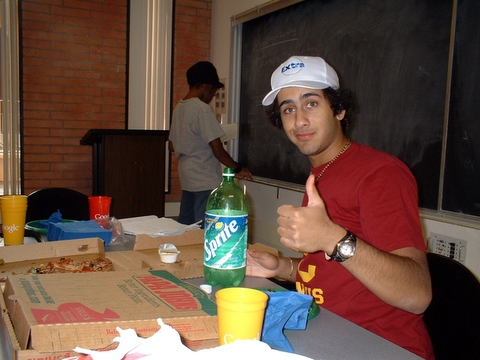 Francesco enjoys ree pizza and drink, while Charlene prepares for the CS final on the blackboard.
I received Google cups, and they're pretty nice. Plastic and seem fairly durable. I'm keeping mine, and I think everyone else is keeping theirs too. I invited a few friends to come by, too, since two pizzas is way too much for just two people. In the end, I think it was a success. Though not all the students who came are majoring in CS, they all have an interest in Google — and, therefore, computers. As the first Google Pizza Party that I organized from scratch, I think this was a great success. One thing I did forget was to ask the delivery guy for a receipt – but I peeled the sticker off the pizza box, which has the price on it, so I hope that'll be fine. Google seems to be reasonably easy-going when it comes this program, which is awesome.