I go insane at night
And forget everything the next morning. No, I'm not partying nor drinking, nor even hanging out with people. I'm looking at my math homework now, which I was struggling to finish last night. Right in the middle of a math problem, here's what I have written, in pencil and scrawled in strange shapes, as if these words were numbers or mathematical symbols.
"Has a plasma TV"
(Immediately to the left of this is a double integral.)
"high-response really cool all."
"If you're busy this week, [break] good for all"
"details on Google"
"belows thanksgiving"
"Floor [unreadable] mtg"
This is so weird that I have to scan this. It's shocking.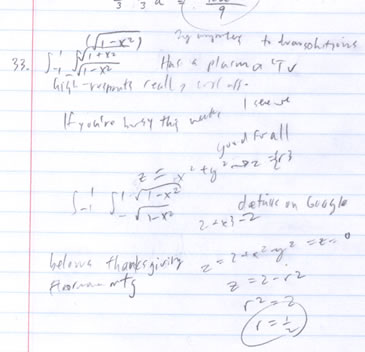 Seriously, I can't believe I wrote this. I must have a second mind that takes over when I stay up too late. Maybe it's my night-time mind. Normally, this stuff would stay in my head: it would probably be processed to create my dreams. But when I don't sleep, there's no chance for dreams, so I get this dream-like state. And it's really a second mind separate from my daytime one: I don't remember this. It's vaguely familiar, but I do not remember it.
Update: the next page has the word "Sorority" at the top, followed by "11/6/06". I have no idea what that date has to do with anything (this was written yesterday, 11/15/06). Oh, and it has "Intel" randomly thrown in the middle, too.