Microsoft Word – Hide Margin Lines in Corners?
I started off with this problem of Microsoft Word complaining about "Macros in this project are disabled" whenever we tried to paste into the document. I fixed this by resetting the default document template, enabling all macros, and restarting Word. (I think just restarting Word would've worked. If you have this problem, try that: and accept the macros that pop up, assuming you know what they are. Make sure you have up-to-date antivirus protection.)
Now I'm noticing these annoying lines at the corners of the document in Print View.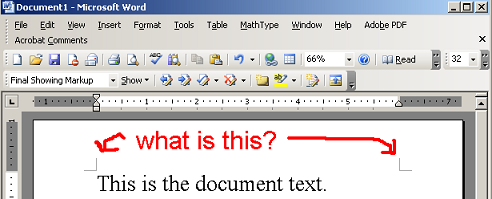 What are they? How do I hide them? I looked through the View menu and tried searching the Word Help and and Google, and I couldn't find it (how embarrassing!). But hey, I'm willing to ask, so– do you know?