Last day in Mountain View
I loved hanging out at Google so much that I stayed until 10 PM. Even so, there were a couple things I didn't get a chance to do: take a picture of the white Google sign near Charlie's Cafe and take a picture of the "pink dinosaur." It probably wouldn't've hurt to take a picture of the SpaceShipOne replica, too. But that's okay– none of those are going away in the foreseeable future, and I'm sure they've been photographed in the past (and probably by more competent photographers).
There were some cool pictures I did manage to take, though. Like this one of the USC printer in building 40 at the Googleplex.

You know what I really want? Integration between WordPress and Picasa Web Albums. I don't know exactly how that would look, but boy, would it be useful. Actually, I should look to see if a plugin has already been made for this purpose.


This is the Google logo above all of the fridges in the mini-kitchens.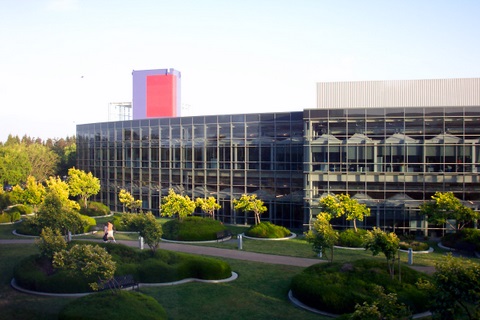 Here's a pic of the Googleplex out the window.
I got a chance to chat with the host for my internship. He really sounds like a truly amazing guy, and I'm really excited to get started in Santa Monica. Since we're working on Google's photo organization systems, it's important for me to have some photos to work with. I wish I'd realized this sooner so that I could take even more photos while in Mountain View. Oh well. At least I took the photos I did.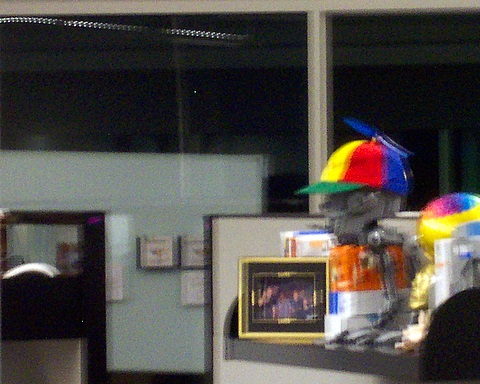 Another cool thing is this LEGO Star Wars guy with a Noogler hat on. I believe it's an All Terrain Scout Transport, or AT-ST walker. Yes, Google is now hiring Star Wars vehicles to help with their mission of organizing the world's information.
I apologize for the bad photo. Although it was 10 PM, there was someone working in a nearby cubicle, and I didn't want to disturb. So I shot one poorly-angled picture from a distance. It looked really cool close-up, though. When I get to the SMO office, if I get a Noogler hat, I'll definitely be putting it on some geeky LEGO model or something.
Remember: This is my personal blog. The views expressed on these pages are mine alone and not those of my employer. If you have any comments or concerns, don't hesitate to contact me.