Jermaine's Nitty Gritty Marketing Course Goes Live
This is truly amazing. Yesterday, I blogged about the piano teacher who has made $3 million in the past few years, just by teaching people how to play piano by ear. Today, he released his new program to the public.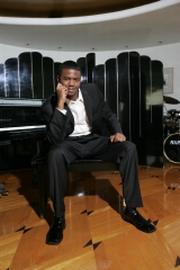 Jermaine Griggs
Now, let me be clear about something here. I know Jermaine is genuine because I met and talked with him earlier this month. Maybe you believe me, but maybe you don't. So…
Want to see a real content preview of what's inside his new Members Area? Watch these videos (new window) in a post on my newest blog, Track Forward. In them, he actually shows you how he teaches you to do things, and he reveals strategies that you can put to use right away.
At BigSeminar, which I've written about briefly before, Jermaine released his coaching program. It was only for people in that room, and totalled up to $1,983– since he was born in 1983 :) and dozens of people, including myself, rushed to the back of the room to order it.
Today, after working hard for weeks, Jermaine has finally released a new Private Access Club which will show you exactly how he made his millions, by being insanely successful in the relatively small piano by ear niche. But here's the great thing: you won't have to pay the $1,983 that Big Seminar attendees did… he's opening a limited number of charter memberships for just $2.97 for the first month!
Seats really are limited, so take a look now at OfficialNittyGritty.com.
Here's what Joel Comm says about Jermaine:
I'm actually a little worried about the ripple effect Jermaine's insanely low pricing structure will have on the market, I've never seen anyone sell content this incredible for so little money.
Jermaine's genuine, and so is Joel. So go to the site now: OfficialNittyGritty.com – and don't miss it!