I need to make $399.00 to give a laptop
Give one. Get one.
That's the proposition of the One Laptop Per Child (OLPC) project, whose mission it is to provide laptops to children in developing countries. The idea is to empower these schoolchildren by allowing them access to the kind of technology that has made the U.S. and other technology-centric nations so prosperous. It'll give the kids tremendous opportunity for education, in a way they've never seen before.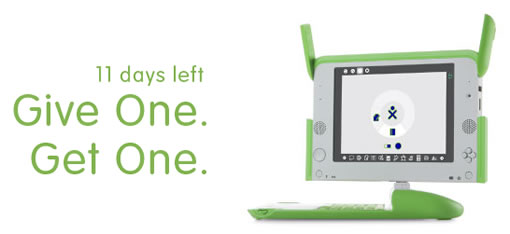 Beginning November 12, you can donate a laptop to a child in a developing nation, and another one will be sent to you in recognition of your contribution. (This opportunity ends December 31.) These are incredibly neat computers, and this is the first time it has been offered to the general public. The cost to do this is $399, as the price of one laptop is $200 (and indeed, $200 of the donation is tax-deductible). Give one, get one – One Laptop Per Child
I will be buying an OLPC to support the cause and get a laptop for myself. You can make a donation to me to help fund this purchase. I'll take this donation button away once $200 (the donation amount) in donations has been reached.
Donate to Elliot's OLPC Fund:
Current balance: $55.00
For donations of $10 or more, I'll feature a link to your site here on my blog! (Just comment with the URL you'd like added.)
OLPC laptops will also get Sim City for free, which was generously donated by EA.
Here's a very cool walkthrough of the OLPC's features. It's awesome.
(I heard about this project via Leo Laporte, but I was most recently tipped off by John Chow.)
I have actually blogged about One Laptop Per Child before– over one year ago— back when people thought it might debut as the "$100 laptop". Great to see that it's almost now reality!
What do you think? Any questions?