MacBook Air: World's Thinnest Notebook
Apple announced today (my birthday :) the release of the MacBook Air, which they claim is the world's thinnest notebook. What I'd like to know is: what was the thinnest notebook before today?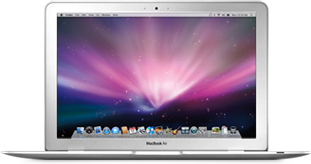 The MacBook Air is 0.76″ at its thickest point. There is a hard drive option (80 GB 1.8″ hard drive) and flash memory drive option (64 GB), which would make it the first mainstream OS X computer running on flash memory. I suppose you can count the iPhone, but it's not really a full-blown computer.
Since the new laptop doesn't have an optical drive, you can use a new product called "Time Capsule" with it to backup files wirelessly. Time Capsule is a wireless router with a 500 GB or 1 TB hard drive, which looks like the Apple TV and will probably be a popular accessory for the MacBook Air.
Overall, the MacBook Air reminds me of the canceled Palm Foleo. I'd like to get an Air when the price comes down. Or would someone like to give me a review unit? :) Update: The X300 seems more suited to me.
There's also a free iPhone upgrade which introduces "location-based maps" – exactly what is this? – "a customizable home screen and multiple-SMS support."
Instead of watching DVDs, Apple suggests using their new US-only iTunes movie rental service. Steve Jobs is, of course, "dying to get this out internationally," but for now it's US only.
iPod Touch owners can get 5 features – mail, stocks, notes, weather, and maps – at a cost of $24.99. What a rip off!
A record 20 million iTunes songs were sold Christmas day.
Sources: news.com.au, Apple Store