Update 4.3.2 then jailbreak, or jailbreak and update at the same time
I asked:
I have a factory-unlocked iPhone 4 running iOS 4.3.1. Should I update to 4.3.2 using iTunes first, and then jailbreak?

Or should I just run the jailbreak immediately, providing redsn0w with the 4.3.2 firmware, even though my device is on 4.3.1? (Will this also update my iPhone to 4.3.2?)
dhlizard125p answered me almost immediately:
Redsn0w won't update your firmware, it is just a jailbreak tool.
Great to know!
###
Here's a pic of the nanoblock sets we built a couple days ago: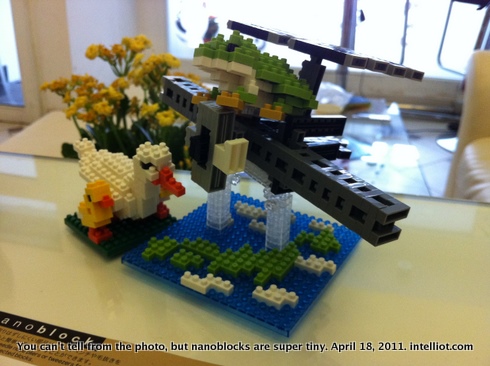 You can't tell from the photo, but nanoblocks are super tiny. We built a couple ducks, a frog, and a space station. Builders: Ang, Con, Nhu, Tra, me.
Today I went to the police station with Nhu to do the next step in getting a Vietnam residence card. I actually don't know how it went, since most of the talk was in Vietnamese. I did appreciate that Nhu made an effort to teach me some Vietnamese.
Vietnamese words of the day:
đại úy = captain
lấy số thứ tự = get number
kiệm = thrift, economical
vì nhân dân phục vụ = serve the people
I went to second lunch with Pau, from church, and he gave me some great ideas for promoting Parallel Frozen Yogurt. He's a great guy, and talkative even when I express slight disinterest.
cThu and I went to Vietinbank to pick up some money and convert it at the market. The rate at the bank was 20,880, and the rate at the market was 20,900; hardly any difference at all. I think we will do the exchange at the bank from now on. It's safer, easier, and faster (since we're there at the bank already anyway).
I intended to go to dinner with cHa, but I totally forgot about it. I need to check my schedule more often. I actually like not having a schedule. I guess people need to remind me of things, at least if they actually really want me to show up.