Château de Versailles
Friday, Aug 19 – Day 11
I took a train from Cologne, Germany to Paris, France. Caleb met me at the train station. I went to Andy's apartment. Andy is graciously hosting me for the week.
Saturday, Aug 20 – Day 12
Caleb and I went to the Château de Versailles. There were long lines. We bought tickets form the automatic, electronic ticket machine. Caleb received ten 2€ coins in change, quite a handful, but quite useful.
In the afternoon, we visited the white-domed Basilica of the Sacré Cœur, located on the Montmartre. Here's a photo taken from that spot, looking out on the city: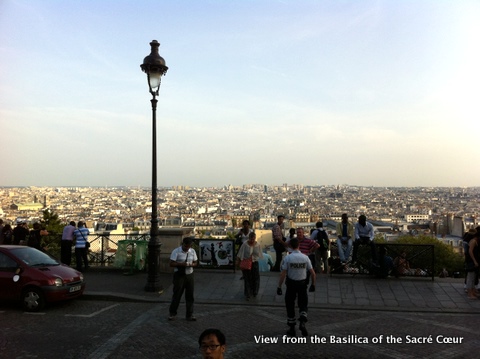 In the evening, we went to a French brasserie where I had salmon and noodles.
Sunday, Aug 21 – Day 13
Caleb and I went to The American Church in Paris.
In the evening, Andy and I got Chinese take-out from a place right across the street. The egg rolls weren't very fresh.
Monday, Aug 22 – Day 14
I visited Google Paris with Andy. I met Prakash, who knows some of the Picasa Web Albums team that I worked with: Fern, Ryan, Kevin, etc.
I spent most of the afternoon reading about Apple rumors, webOS, and the mobile app industry.
I ate leftovers from yesterday's dinner.
Andy, Caleb, and I had dinner at a kebab restaurant across the street. Not bad, but no couscous, despite its appearance on the menu.
####
Wow. The Ron Paul of 2008 is back.