Getting to Amsterdam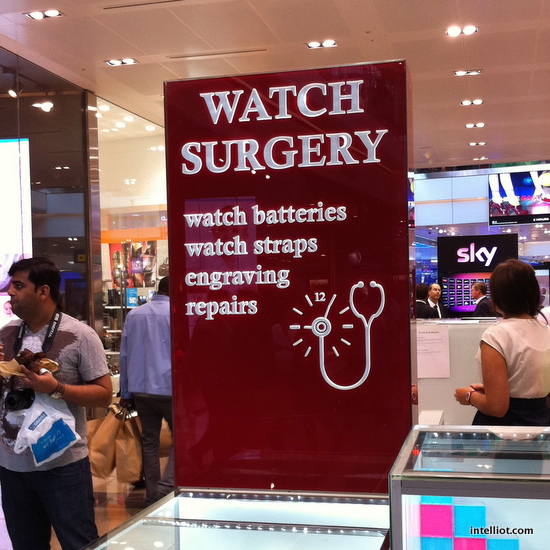 I don't have any photos in Amsterdam yet, so here's a random photo of "Watch Surgery" at the new Westfield Mall in London.
I finally arrived in Amsterdam, flying in from London. Getting here was one of the most challenging travel experiences thus far. Fortunately, it worked out in the end, and I learned many lessons along the way. Here are a few of them…
Don't shop for a new backpack (rucksack in the UK) on the day you're leaving.
This is ultimately what caused me to miss my flight, more than any other single thing.
Pay very careful attention to any times given in 24 hour format.
My flight which I thought was at 6:05 PM turned out to actually be at 4:05 PM… a consequence of misreading the flight details!
Taxis in the UK can offer you different prices, and there are several different meter systems which affect the flexibility that the driver can offer you.
One taxi driver informed me that the full meter fare from Stratford to London Stansted Airport is about £100. He offered the ride to me for £80, a discounted rate. However, he couldn't take credit card at all. Another said he could take credit card, but only if I pay the full meter fare. His credit card processor actually restricts him to that. In the UK, the meters are enforced by law as the maximum price that the driver can charge you; but the driver is free to give you a lower fare, if you pre-negotiate it, which I did. I ended up finding a driver that took me for £70… and he accepted credit card on that price. His taxi number: 93343 — I'd give his taxi a positive review, as he was friendly and truthful. The credit card machine adds a 10% fee, so the actual charge to my card should end up being£77.
The drivers are friends with each other. When the driver of 93343 — whose taxi has a sign that says "DAD'S TAXI" in it — made the deal with me, he asked the driver in front of him if I'd asked him yet, as that driver was ahead of him in line at the taxi stand. That driver said yes… and said he'd match the price: £70. However, his taxi cannot charge any less than the full meter fare for credit card transactions; so, after switching taxis, I had to switch back. Not a big deal, but probably cost me 5 minutes of time.
EasyJet closes the check-in counters 40 minutes before departure. Departure time is the one given in the booking!
No leeway, no mercy. I was 15 minutes late, based on the 40-minute requirement; for my 4:05 PM flight, I arrived at 3:40 PM. Though the taxi driver thought I'd make it, EasyJet is very strict about cutting off check-ins at the 40-minute mark.
Here in Amsterdam, I'm staying at Victor's… so far, it looks like a pretty awesome spot. It's very convenient that Apple's MagSafe adapters are all compatible… I can plug in using his charger, no need to dig around trying to find my European plug adapter.