BT Home Hub in the garbage
There's a BT Home Hub in the trash here at Journeys Hostel.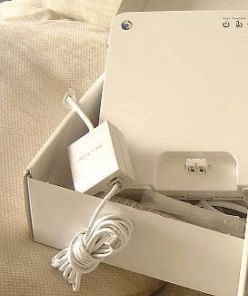 (This isn't a photo of the actual one I'm looking at. I didn't want to bother taking and transferring a photo.)
I picked it up out of the trash to get a closer look at it. Model: 038194. I don't know why it's in the rubbish bin. Perhaps it's broken. Cosmetically, it looks fine. The power cable and ethernet cable are there in the trash with it. Since I have no use for them, I guess I'm not going to ask about it. I'm a packrat. I need to learn to give up. To clean up. Instead of constantly moving to clean slates, I need to constantly keep my workspace tidy.
Once I get rid of something, I rarely miss it. What's the last thing I got rid of that I really want back? The universal plug adapter that I gave to anh Chuong. At the time I gave it up, I didn't have much use for it: U.S. plugs fit just fine in Vietnam. But that is certainly not the case in Europe. If I could easily have it back, without offending him in the least, I would. Yet even this isn't a big deal.
I've been picking up region-specific adapters as I move along, which works fine, but it's not quite as convenient as just having it.
Traveling helps to enforce this kind of discipline because every time I move, I have to look through all of my belongings and re-assess. Do I really want to carry this thing around everywhere? The weight, the volume, the shape and bulk — each possession has a high cost. Even my computer's hard drive has hit max capacity multiple times in the past week, and every time I struggle to clear out ~15 GB. It's just as nice to be a digital minimalist as a physical, atom-world one.
Today is Tuesday, Sep 6 – Day 29 in Europe. What will I do today?
Visit Build Brighton
Visit Regus office space
Book accommodation for tonight and the rest of the week
Book train back to London
Work
Yesterday was Monday, Sep 5 – Day 28. It was the day of Update Conference 2011. That'll require quite a post. I'll have to write about that later.