Questions asked by US immigration at airport
Three days ago, I landed at LAX– Los Angeles International Airport. It's nice to be back. Sometimes I call it home. Sometimes Vietnam is still home. I suppose my home changes depending on the context. But, for now, it's always "Earth".
I noticed a few interesting new things since the last time I was here. On one wall, there's text that reads "welcome to the united states" above a photo of Barack Obama. While in line at immigration, we get to watch a video on a large screen TV, in which individuals and groups of people mouth "welcome", one after another. There are speakers on the TVs, but they weren't turned on, so it was a silent video.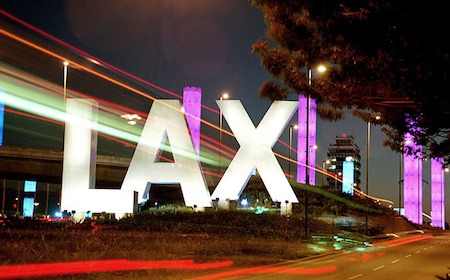 Photo by friedmanarchives.com
At the front of the line, there's a lady announcing the number of the desk that the next person should go to. When she stated my number– 27, I think– I hesitated, not knowing which direction I should go: is that desk to my right, or to my left? I remembered the situation I was in when leaving China: they have a man directing people to different security screening booths, and he stated the number in Chinese. When I asked to confirm the number, he restated it in English. But this time, of course, the officer at LAX only states the number in English.
I know some travelers who are annoyed or confused that people in a foreign country speak a foreign language. It wouldn't make sense any other way. If things were the same, and people spoke English, then why bother traveling? I thrive on "annoyances".
When I reached the immigration officer and handed him my documents, I was glad to see that he was a genial-looking gentleman. He fit the stereotype of a good police officer, middle-age, mature, gray hair, a sense of humor.
As a US Citizen, I wasn't sure what to expect. Would I be asked anything? How long would it take?
He began a series of questions (O = Officer, M = Me):
O: China, Vietnam, Taiwan, Germany, France, UK, Netherlands. So you visited all of those countries? What did you do there?
M: Just traveling, mostly.
O: What did you go there for?
M: I also attended a conference.
O: What do you do for work?
M: I'm making mobile apps.
O: Do you work for yourself?
M: I work for my own company.
O: Okay, so you can afford to go to  all those places.
M: Yup.
O: Bringing anything back with you?
M: I bought this jacket. [I tug on the jacket as a gesture to show him it's the one I'm wearing.]
O: [Laughs.] Alright. Welcome home.
M: Thanks.
The entire exchange took only a minute, but it covered a decent amount of ground.
This seemed appropriate to me. It was a reasonable and understandable amount of questioning.
Does my recent experience jibe with yours? When was the last time you landed at an American airport after an international trip?