San Diego Day Trip
Elliot and I took the day off to go down south to San Diego. It was quite convenient since we both had business there.
My friend was gracious enough to let us stay the night, so that we would have the full Friday to do stuff. We started our morning off to the Broken Yolk Cafe, home of the Broken Yolk Challenge.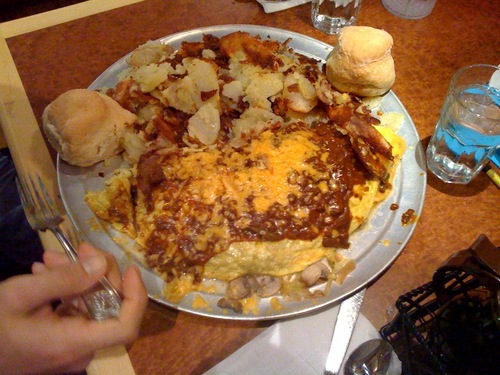 While neither of us took on the dozen-egg chili omelet (pictured above), we still enjoyed our more normal sized breakfasts.
After that, we set off for the San Diego Zoo Safari Park! Now, why did I bold Safari Park? Because the Zoo and the Safari Park are actually two different locations 35 miles apart! Fortunately, Elliot asked if they were the same place before we took off since the tickets I had were very specific…that would have been embarrassing!
I could write about my trip, but I think pictures will do it better:
Finally, we saw a cheetah run:

Chester the Cheetah has nothing on that!
So, that was pretty much our day- it was nice to see a piece of Africa without the airfare, jet-lag, and mosquitoes. When we returned to Los Angeles on Sunday, we made sure to pick up some Carne and Pollo Asada fries…oh yea! Can't get these up here, worth every ounce of saturated fat!