Apple iPod nano
Today Apple released the new iPod nano, which comes in black as well as white, and in 2 GB and 4 GB versions. It also has a color screen and a clickwheel.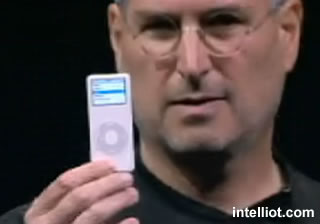 Steve Jobs with the Apple iPod nano
Here's one thing to note, from a review:
Not Quite a Full-Grown iPod

Although the iPod nano can display pictures and slideshows like todayís color iPods, it doesnít have all the capabilities of these iPods. For example, youíll find no TV Out commands in its Slideshow Settings window because it canít project pictures to an attached television. Also, it doesnít work with Appleís iPod Camera
Connector or Belkinís Media Reader, which means you canít upload pictures to it. And although the Diagnostic Screen shows a LineIn test, current iPod microphones require a connection to the Remote Control port as well, which is missing on the nano.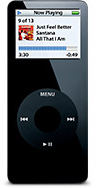 Black iPod nano
Will I be getting one? Probably not. I'm happy with my Creative MuVo N200, and I recommend it to anyone who wants line-in, a built-in microphone, FM radio, and FM recording. In addition, I'm saving up for those Intel PowerBooks :)
How to Upload Pictures to the iPod nano
It has to be done in iTunes, rather than dragging and dropping through the Windows interface. Go to Preferences -> Photos. Your iPod needs to be plugged in. From there, you can select which photos to synchronize.