Thermal Conductivity Demonstrated by Bickers' Walk on Burning Coals
Dr. Gene Bickers, Physics professor at USC, today demonstrated thermal conductivity by walking on burning hot coals.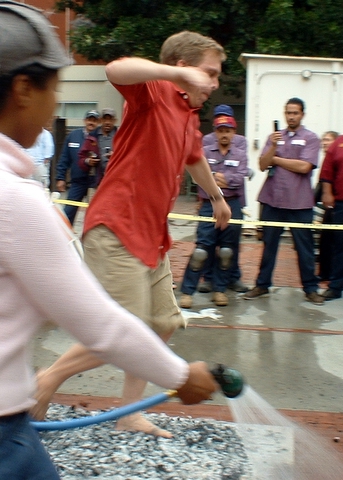 He has become famous for this act. This time it was for the Physics 161 class. This isn't the best picture, but I really like the uniqueness of it. There were many other cameras there, and quite a few other people too. And yes, the heat was definitely intense. Even behind the caution tape, we could feel it.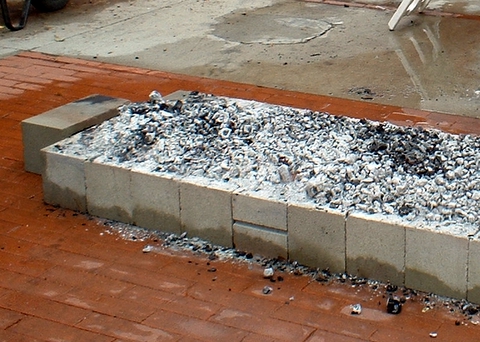 They had been burning firewood on the coals all day. I wonder how they removed the wood. Anyway, they sprayed ethanol into the coals right before Bickers walked on them, and it was immediately consumed in flames. Still, it was a short demo, and the Professor hopped across the coals in just a few steps. Even so, if, instead of coals, it had been metal, that would result in an immediate burn. It's like walking on carpet versus walking on a marble floor, even when the temperatures are the same, t doesn't feel that way. Also consider a swimming pool and a hot oven.
The aftermath?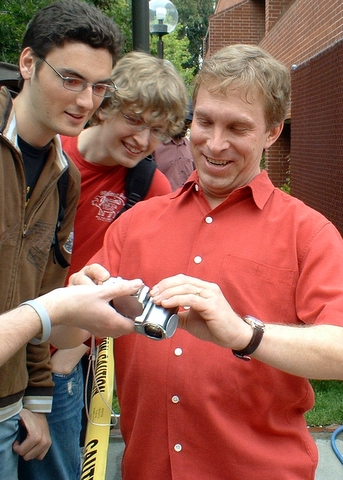 I'm sure I'm not the only one blogging this. If I find another post about the event, I'll link it.
Update: consider the Leidenfrost Effect.