Ming Hsieh Gave Me His T-Shirt
This morning, I thought to myself that I was very dissatisfied with my classes. CS 499 is boring. Math 226 is explained terribly. ITP 477 is cool (ask me about this if you're interested). I still need to start writing for the Core 103 midterm Thursday. EE 101 is the one class that's going well and is interesting– but my roommate keeps telling me about how bad his upper-division EE courses are. I considered what it would take to transfer.
Well, my attitude has changed completely. This afternoon, the USC Department of Electrical Engineering held a special announcement. I left lunch with Natalie to arrive nearly 10 minutes early to make sure I didn't miss anything. It was a good event, with a video about EE at USC, the Trojan Marching Band (TMB), Andrew Viterbi, Steven Sample, and so on.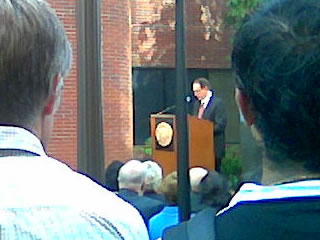 Steven Sample makes his speech at the announcement of Hsieh's donation.
The announcement was that Ming Hsieh was donating $35 million to create the Ming Hsieh Department of Electrical Engineering. At the end, Dean Yannis Yortzos presented him with a framed poster of the logo they put on the EE buliding, and Steven Sample and him with a couple of the free t-shirts. "Not quite Giorgio Armani," he quipped. They concluded with the TMB. I like how President Sample does the "Fight On" hand sign with his fingers pointing forward, like he's poking something, or pointing at the band.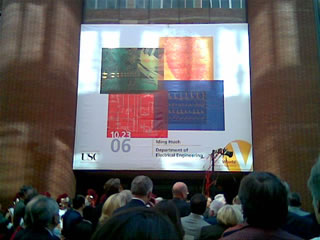 Large sign makes the naming "official"– the Ming Hsieh Department of Electrical Engineering.
Anyway, they concluded the program, and started handing out shirts. There was a huge crowd and they quickly ran out. I actually had a class from 2 to 3:30 PM, and I was missing it for this event, so I went to catch the end of it (where we talked about teamwork and distributed POMDPs). Then I came back to the RTH courtyard and saw students talking with Ming Hsieh, the guy who donated $35 million to rename the Department of Electrical Engineering. I decided to muster up the courage to go talk to him. As I did so, I rehearsed a line that went through my head: "I was a little disappointed that they ran out of t-shirts, but it's no big deal." Wouldn't it be cool if he gave me the shirt they presented him with earlier? I'm sure it wouldn't be a problem for him to get another one later.
A lady who works on the 5th floor of Olin Hall said they're ordering more and will send an email when engineers can come pick them up. Apparently, they've never had more than 500 at an event like this, and here they had over 1,000. Mr. Hsieh was going to leave soon, but she said students are most important, so she'll make sure we get introduced. I said my line. "I was a little disappointed that they ran out of t-shirts, but it's no big deal." Much to my surprise, he handed me his shirt, saying, "I'll get another one later." What an awesome guy!
I had the lady take a picture of me with him on my cell phone.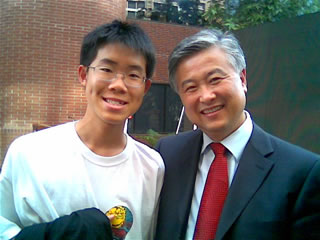 Ming Hsieh and me. I'm wearing a Dell-Winston School Solar Car Challenge t-shirt and holding the black t-shirt he gave me.
Read more information on Ming Hsieh, a self-made billionaire who founded Cogent Systems.