AdSense Wide Skyscraper Test Results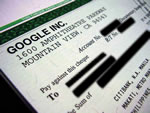 Which do you think is better: a wide skyscraper with blue links and no border, or one with red links and a gray border?
My testing shows that the blue links and no border outperform the other by 73%. Did you get it right?
Here's another one to test your optimization abilities. Which performs better for a large rectangle: having a colored bar to the left of it, or not having the bar?
Well, this one is more inconclusive. If we look at it over all time, the color bar performs 29% better. But! The other version of the ad has only been running since October 15, and has only 1/10 of the page views the colored bar one does. The color bar ad has been running for over a year… since Friday, July 28, 2006, in fact. If we look just at performance from October 15 to now, they both have about the same impressions— and the results actually skew the other way, with the ad without the color bar performing 25% better in terms of eCPM.
What tests have you done, and what were your results?