Canceling the Chase Payment Protector
Signing up for the Payment Protector is very easy. When activating my new card, the phone rep asked if he could sign me up for it, insisting that I'll be send info in the mail which needs to be signed before it takes effect. I said No. He asked again. I said No. He re-explained the benefits of the plan and emphasized that it could be canceled within 30 days for a full refund, no need to make a decision now, you'll be sent the agreement in the mail which you'll need to sign and return. Again, I said No. He re-explained and asked again. Gosh, these people are persistent. I wonder if this is how AOL made all their money. I wonder if Chase could survive without doing this. (I want to hope the answer is yes, and that they would actually be even more successful without these hard selling tactics. But that's probably not the case.)
I muttered, Uh, okay.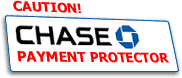 And that was it, I was enrolled. I never saw anything in the mail, I never agreed to anything else. I never said the word "yes" and never gave any other confirmations. Not to mention the confusing fact that it actually charges you based on your statement balance every month, regardless of whether you carry the balance. That means if you use your card at all, you will always be charged the 89 cents per $100. Fortunately, that's less than the rewards amount, which ranges from 1% to 3%, depending on the purchase. But there are limits and restrictions on the rewards. And 89 cents (0.89%) is not much less than 1%, which is what I get for all payments to USC, such as at the bookstore for textbooks, tuition, etc.
So I called to cancel. I meant to do so last weekend, but conveniently, the payment protector number is limited to business hours, not the 24/7 customer care they like to trumpet, and on Saturdays, they're open for a couple hours… Eastern time. That meant they were closed already. I was about to give up and send them an online message, which would probably have ended up nowhere, when I realized I should call the number on the back of the card. So I called.
What an adventure: the phone system makes it sound like you're going to get somewhere ("Press 3 if you would like info on a transaction on your statement, you don't recognize a charge, or you would like to cancel an automatic payment"), but, of course, it just tells me a little info and doesn't actually do anything. After weaving through the menus several times, I finally found a point where it said to press 6 (or some equally obscure number) to speak with an "advisor." Bingo, I've found a live human.
A very friendly Nick answered and I told him I'd like to cancel and get a refund, as it has been less than 30 days. No problem, he assured me. First, he tried to sell me an ID protector plan, where they'd check my credit report for identity theft or something like that. No, thank you. Alright, he said… I would just have to be put on hold and transferred to the right department. Fine.
Amy Cumpton answered, apparently totally unaware of my conversation with Nick. I told her again, and she said No problem… I'll just transfer you to the Payment Protector line— wait! "Would they be able to take care of this right away?" I inquired.
"Yes…" she said, and then considered. "Well, let me check if they're open right now." (They're not, I thought to myself.) "Sorry, they are closed right now. I can go ahead and take care of it right now." Thank you, Amy! (Why didn't she just do this in the first place?)
A few seconds later and she confirmed to me that it had been cancelled and I'd be getting a refund.
I'm blogging this partly to share the story, the part to remind me to check the statement to verify that I am indeed refunded the 50 cents I was charged for the Plan last month.
P.S. Here's a site with comments containing insightful info about the Payment Plan: Rip Off Report.com
If you're interested in Check Point Security Administration, for the 156-315, not only 642-432 is important but 642-444 is required as well. The eligibility criteria for 642-453 is similar, too.