Chinese company Lenovo, which acquired IBM's computing division in 2005, today is throwing around the word "perfection." And I think this could very well be the closest a laptop has ever come. They have released the ThinkPad X300, a 2.9 lb. wonder. Far less than an inch thick, it's the lightest and thinnest ThinkPad ever made. Amazingly, it has not only a TrackPoint, but a TouchPad as well – which is the signature ThinkPad "UltraNav."
Naturally, when thinking of extremely thin laptops, the recently-released MacBook Air comes to mind. Here's a head-to-head comparison, which shows clear ways in which the X300 wins out: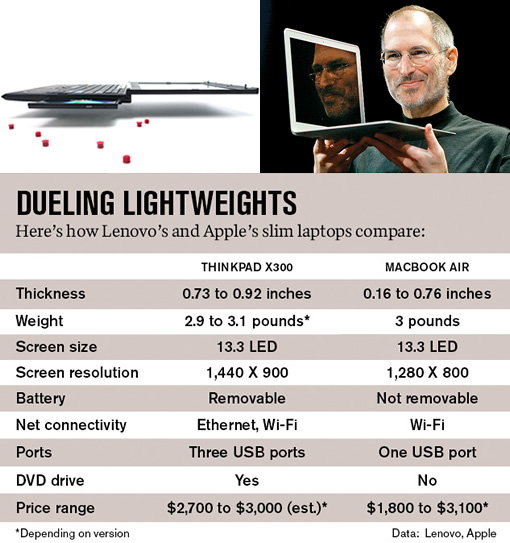 A reporter followed the process from start to finish. Read about that here:
Building the Perfect Laptop – BusinessWeek
They were working on the laptop for over a year. Somehow, the MacBook barely beat them to market. Here's a post about it on Lenovo's Design Matters blog:
The Pursuit of Perfection – Design Matters
I'm amazed at how far laptops have come in the past 10 years. I remember drooling over 300 MHz WinBooks. They were $1500. Today, that same $1500 buys so much more, thanks to technological advances.
I'm tempted to sell every computer I have and pick up an X300. That is a computer I would truly bring everywhere. Whether I get it depends on long-term reliability of the computer, though.