Nintendo DSi
Today Nintendo released a new handheld gaming system– but only in Japan. It should be released elsewhere (U.S., hopefully?) around Spring 2009.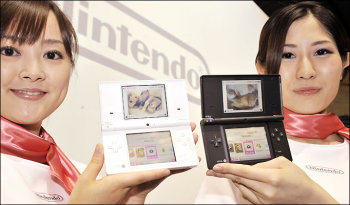 It's called the Nintendo DSi. Here's a rundown:
The two displays are 0.25″ larger (3.25″ instead of 3″)
Clearer sound quality
Ability to play MP3s
Two 0.3 MP digital cameras (640×480): one in the hinge, facing you; the other on the lid, facing out
niteru-do function:†take a photo of two people side-by-side and have the software rate how much the two look like each other
Manipulate faces using the touch stylus
Combine or mold different faces together
Manipulate audio: change the pitch and speed of a sound, put effects such as "electrical fan" on a person's voice or play a sound backwards
•18,900 (US$179) –†About $20 more expensive than the DS Lite
No GBA slot. Instead, the unit is slightly thinner
Slightly lighter
Slightly shorter battery life
GBA games cannot be played on the DSi, and some DS games which required the GBA slot can't either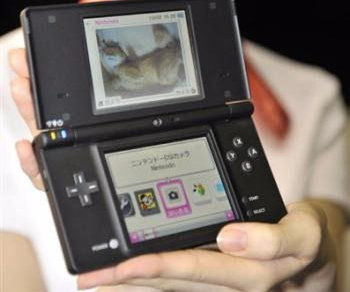 One out of every 5 people in Japan own a Nintendo DS.