AIM BuddyStats Scam
I'd classify this as something like a phishing scam.
Here's how it works.
One of your buddies sends you a bit.ly link. For example, http:// bit.ly/ jyDTm (spaces added). Don't go there unless you know what you're doing. This is the potentially-dangerous page that attempts to steal your AIM password.
When you click the link, you see a page with an embedded Flash applet that appears to compare your rank with your buddy's. Here's what you get when you click the Compare button: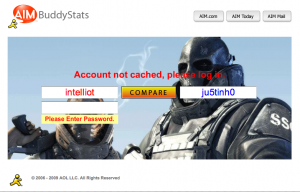 From here, the scam is quite straightforward. They claim to need your password because your account is "not cached", and this is a way for them to steal it.
The URL should look pretty suspicious, too: http:// 117.20.3.158/ ~buddycom/?sn1=intelliot&sn2=ju5tinh0 (spaces added).
P.S. Yet another thing I hate about Macs: you can't rename files within the Open dialog. I do this very often on Windows – at least a couple times a day. Anyone have a workaround?