Giant Pocky Sticks in Japan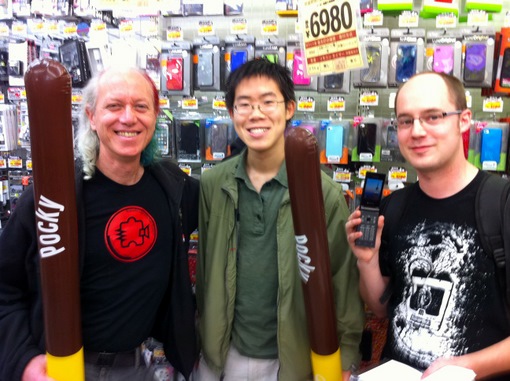 Photo: Mitch, me, and Matt at Don Quixote in Shibuya, Japan, with our giant inflated Pocky sticks
I woke up early Saturday morning to pack up and head to the airport for Japan. The first time I stepped out my apartment door, I forgot the plastic case for my retainer, so I went back and picked that up. Then, after traveling about 27,500 VND-worth of distance toward the airport, I realized I forgot to bring my iPhone headset. I called Thuy, who graciously brought it out for me. In the end, I think my taxi to the airport cost a little under 100,000 VND (less than $5 USD).
While in Narita Airport, I picked up a book called Instant Japanese by Boyé Lafayette De Mente for ¥998. I like the fact that it includes hiragana or katakana for all of the Japanese that appears in the book. Some other "Instant Japanese" books sold by the bookstore only contain Romaji.
Konban wa. (Good evening.)
Ikura desu ka?  (How much is it?)
Everything in Tokyo is extraordinarily expensive, especially compared to Ho Chi Minh City. Nick Farr was kind enough to pick me up the airport, but he was a few hours late, and our only transportation option was a taxi. We traveled about 80 km to get to Ikebukuro, taking maybe about 110 minutes; it cost ¥27,710. At ¥77.99 = $1 USD (the cash rate I got at the airport), that's $355.30. [Actually, it cost me $342.87 thanks to Capital One, which offers a slightly better rate.]
In Vietnam, taxis are about 10,000 VND per 0.8 km, so an 80 km trip would cost 1,000,000 VND. At 21,000 VND = $1 USD, that's $47.62. So the Japanese taxi was 7.5x the price!
This morning, we stopped by a FamilyMart to grab some snacks. FamilyMart is very common in Tokyo. At one intersection, there are four separate FamilyMart locations, all visible at once! I bought a drink (Pocari Sweat) for ¥147, a rice-in-seaweed snack for ¥118, and some noodles for ¥230. I like Pocari Sweat, but it's not much different from a sweetened sports drink.
Mitch had a Pasmo (Suica) card from his previous trip to Japan, and he kindly let me have it because he got another Suica card from Nick. It had ¥30 remaining on it; not enough for anything. I added ¥2,000 to it, which should hopefully last a while. After today's trips, I think I have about ¥1,600 remaining now.
Don's friend left a spare phone for him at an English learning office in Shibuya, so we went to pick it up. Then we went to Don Quixote, a distinct "department" store where we were able to buy three phones for the rest of us. Yes, we actually bought phones, instead of just renting (which is what I did when I visited Japan previously). The phone is a SoftBank 740SC, and cost ¥3,980 — but the charger, which is required to recharge the phone, is sold separately for ¥998! We also had to buy ¥3,000 worth of prepaid phone credit, and the SIM card appears on the receipt for ¥1, so the total package for the phone cost ¥7,979.
For dinner, we went to The Lockup Restaurant Shibuya. Quite an experience. Pricey, though: the sitting fee is ¥500, and my share of the bill was ¥1,700 (~$21.80); and we didn't order a lot (I could've eaten a lot more :). They have a wireless electronic ordering system, and their menu items are both creative and creatively named. As an included starter, they serve giant biscuit sticks with whipped cream cheese. This is a good idea. Other restaurants (or even Parallel?) should try doing this: just provide the snack along with the starter water.
When I arrived in Japan, I didn't know which hotel we were staying at. In hindsight, that was a very bad idea. It is good to research hotels before arriving in a new place, if only to get a feel for what's available. It turns out that we are staying at Sakura Hotel Ikebukuro. According to their business card:
Single room: 6,800 yen
Twin room: 9,000 yen
Double (economy): 9,000 yen
Double (standard): 11,000 yen
Japanese room: 16,500 yen~
Family room: 15,000 yen~
Dormitory: 3,200 yen
Not too bad, but not super-cheap either. There are some extreme budget options in Vietnam that are $5/night or less!
Going to bed now. Going to wake up early to go to Hakone and see Mount Fuji — 5:30 AM to wake, by 6:10 AM out the door. Nick and crew picked up a "Hakone Freepass" for 5,000 yen.