SoftBank prepaid has a simple 4-digit PIN
Today, I remembered (for Mitch) how I signed up for a SoftBank prepaid phone online account. It requires a 4-digit PIN to get your password, and the default PIN (at least for us) was 1234. (On the phone itself, the default PIN, which you need for some actions– like deleting certain things– is 9999.)
On Tuesday, we went to Hiroshima. Nick is crazy about the rice triangles that can be found in every convenience store in Japan. While walking down the street, we spotted this huge poster featuring giant rice triangles: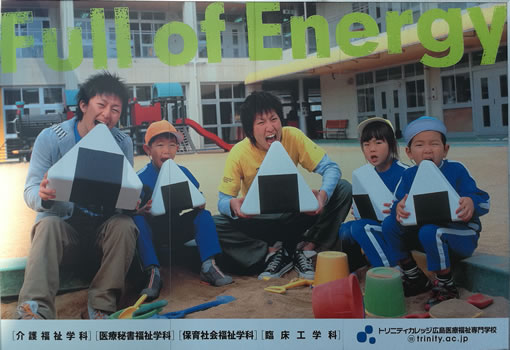 That amused me.
Later, Rod and I went to the Hiroshima Peace Memorial Museum. We also took the boat to Miyajima, where I took a photo with the world's largest wooden rice scoop.
Yesterday (Wednesday), we visited EC studio. Then, Mike and Fish went to the Osaka Aquarium, the largest aquarium in the world. Finally, we went to Namba for dinner. I'm honored that everyone loves my restaurant picks. Apparently it's a talent I didn't know I had :)
In the evening, I joined Fish, Nick, Guy, and Matt to record an episode of Signal, the podcast about hackerspaces. It was neat, and I had an opportunity to talk about my plan to create Vietnam's first hackerspace.
Today (Thursday), I went to the U.S. Consulate to create a notarized authorization for my dad to do a criminal record search for me. I also went to the bank and converted $400 USD to JPY (yen). Today's rate was 80.26. I checked two banks, and both offered the exact same rate, so they must be coordinated.
Then, I worked on Whiteboard and Color ID while the others went to Nara. I'd already been to Nara, so I was content to stay at the hotel and get some work done. I had dinner at Yoshinoya, which was impressively good for the price. At 450yen, it was probably the cheapest full meal I've had in Japan. It was super-fast, too.
Tomorrow (Friday), we will go to an onsen in the morning, and then head back to Tokyo on the Shinkansen.