Germany: First Impressions
Aug 9 – Day 1
While in LHR (London), I picked up 20 GBP from an ATM. I arrived in Berlin via Tegel airport (TXL), where I picked up 20 EUR from an ATM. In both cases, I used my ANZ ATM card from Vietnam, so of course it was converted from VND. The transactions finally showed up in online banking a few days later. Based on the exchange rate from Google at that time (a few days later), the effective fee applied by the bank was about 14-15%.
I'm here to attend Chaos Communication Camp 2011, but I haven't planned out how to get there. I slept in a hostel in Berlin; it was about 12 EUR. Sheets would have cost an additional 3 EUR, but I didn't need them; I used my sleeping bag.
Aug 10 – Day 2
I went to a Japanese restaurant in Berlin, and pleasantly discovered that the owners are Vietnamese. We spoke Vietnamese a bit. I still feel that my Vietnamese skills are lacking. They thought I was Vietnamese, but I clarified that I'm actually American. A year in Vietnam has changed my appearance, giving me the look of a Vietnamese native.
I made it to CCCamp. Here's a video to give you an overall impression of the event. I didn't make this video, but I did see pretty much everything in it :)
I slept in Nick Farr's rental car. I had initially phone-reserved a room at Central-Hotel Eberswalde, but I ended up being a no-show on that.
Aug 11 – Day 3
On this day I went to the Hackcenter to work for most of the day.
Here's a random pic that I took this day: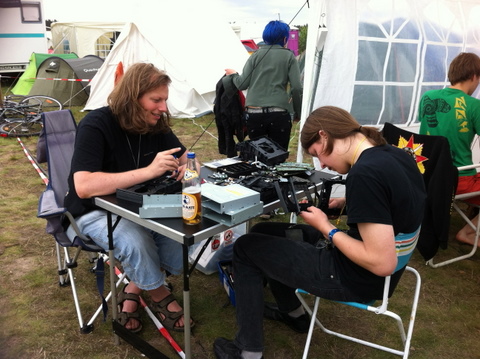 These guys are taking apart optical drives, I think. I don't know what for :)
Here's how the camp's awesome network infrastructure works, in part: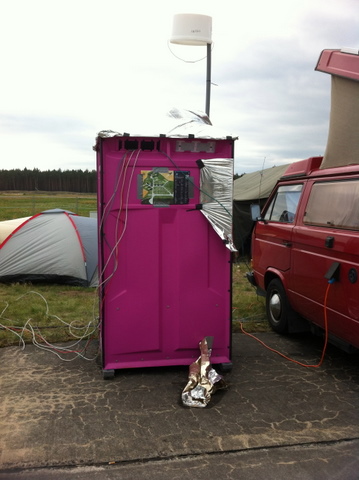 I booked a hotel room when it was nearly 11pm. I felt better about the no-show the previous night because I did end up staying with that hotel. They had vacancy.
I was glad to stay in a hotel, because I needed a nice shower, and I was feeling a bit sick. I'm recovering, but still not 100%.
Aug 12 – Day 4
In the morning, I had breakfast at the hotel, just 3.50 EUR. It's a decent breakfast, with bread, various spreads (including quite a few different meat ones), hard-boiled eggs, yogurt, orange juice, tea.
For lunch, I had a bratwurst: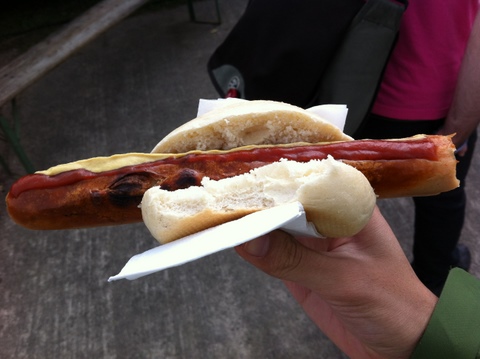 That was my second bratwurst in Germany. I also had one the day before, which was greasier, and on a larger piece of bread. That one was from a different vendor. Both were the same price: 2 EUR.
I went to visit Metalab, where I watched their Makerbot print a case for the r0ket badge: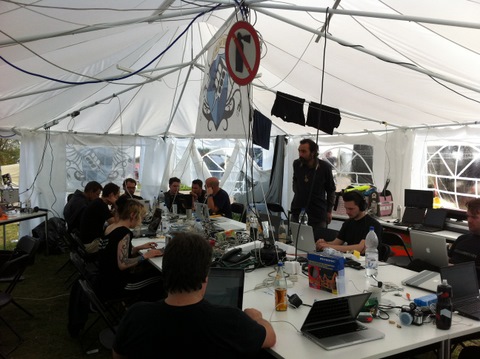 You can't see it much in the picture, but outside the tent they have their signature phone booth.
In the evening, I watched a talk here at CCCamp called "Financing the Revolution." I stayed up well past 2 AM to chat about Bitcoin. I bought a silver coin for 5.20 BTC.
Aug 13 – Day 5
Today we have pleasant weather, and I'm enjoying myself with my new German friends, including Cefalon, who lives in Cologne. I might join him to Cologne, where I may attend Gamescom, and then go to France to meet Caleb and Andrew.