A Week In San Diego: Apps, Yoga, and Food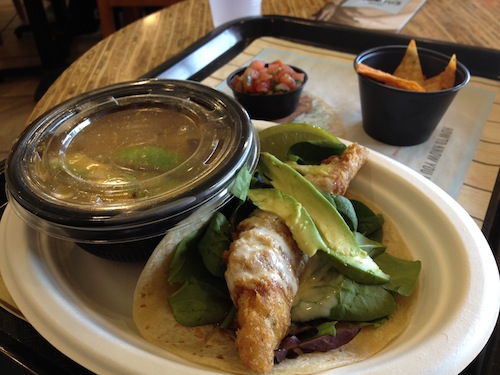 My lunch at Rubio's in San Diego
Earlier this month, I went to San Diego for a week. The main purpose of my trip was to attend The App Code seminar. I met some awesome people there, especially Mike and Quoc. I'm also really glad I met Vince. Though he's not making apps yet, he's a rad guy.
I also joined a mastermind group, and we have a new forum going. It's pretty active because we created one simple rule: all members must post at least once per day. If you're an appreneur and are interested in joining our exclusive online forum, let me know. It's pretty exclusive, but if you're a regular reader of my blog, you might be a good candidate for admission. It is free. I don't really like the way some mastermind groups require members to pay. We're peers here.
I took a yoga class and met a guy there who told me about his idea for a yoga iPhone app. I still haven't looked into the other yoga iPhone apps, but I should. He also went to USC, but he graduated a long time ago. Perhaps I will encourage him to outsource the app. I'm so busy as it is.
I stayed at Quoc's place for most of the week. One evening, I brought some sides from Smashburger for him and his girlfriend, Thu. They are awesome– both Quoc and Thu, and the sides. I was glad to do something nice for them. I feel that I should have done more, but they didn't need much. If there's ever anything I can do to help them, I'd be happy to do it.
I once had a pretty good sandwich at a place called The Sandwich Club. I mostly used Yelp to find restaurants. At The Sandwich Club, I had a grilled eggplant sandwich, which included avocado. It was quite good, but at $7.50+tax, a little pricey. Everything in San Diego is a bit more expensive than average, though. In that way, it's kind of like San Francisco.
I drove along the beach and napped in my car. I have almost figured out how to remove the seats, but it involves removing a few more bolts. I'll bring tape into my car so I can keep the bolts together with the holes that they came out of.
I went to Walmart and returned the jumbo sunshade. When I came back to LA, I went to a Toyota dealer and got a custom-fit one. It fits a lot better in my new Prius v. The Walmart one hardly fit at all, with the edges sticking out and preventing the sunshade from going flat against the windshield. I also bought a pair of sandals and a shaver.
(Update: I returned that cheap shaver because it was totally ineffective. Manual non-electric shavers are far better!)
Quoc used to build his own computers, somewhat like I did. However, he got into it even deeper: overclocking, custom case mods, bright lights, and so forth. He's a gamer. Interestingly, games are also the way that I got into programming. Quoc and Thu have gone on medical missions in Viet Nam.
I told them about my belief in Jesus. They seemed only mildly interested, but I wanted to make it clear that if they have any interest, or any questions, I'm always happy to talk about Jesus. Vince has a pretty good attitude about it. He suggested that I make a Jesus-related iPhone app. Later that week, I talked with someone who wants me to make a Bible-related app. So perhaps I'll do it.
When writing posts about my personal life– like this one– I'm constantly debating whether I'm divulging too much personal info. I think what I've said here is pretty safe. I've kept secret anything covered by an NDA :)
Well, that's a good rundown of some random highlights during my trip. I may write more about it later.