West Loop Roadtrip – Day 1
Hey Folks,
I'm Chris and I'm helping blog my roadtrip with Elliot. Not only is this my first real roadtrip, but also my first time blogging. So hope you enjoy.
So begins Day One of our West Loop Roadtrip. After about eight hours of driving through darkness, "snowstorms", and wrong GPS directions, we finally arrived at our destined motel, the Best Western Ruby's Inn at (3 in the morning). The snowy, small town was a huge contrast to the big glitz of Las Vegas, where we stopped for a quick dinner.
After a healthy eight hours of sleep, we set out to Bryce Canyon National Park. With Elliot's National Park pass, we swiftly were able to drive through the entrance gate and to the first and most popular trial, Sunset Point.
The first view of the snow covered canyon, was awe-inspiring. Being a native of Southern California, it's rare to see such a sight. The way the snow covers the copper pillars of rocks in addition to the contrast of the green pine trees against the frosted mesas…all I can say is, "wooooooow".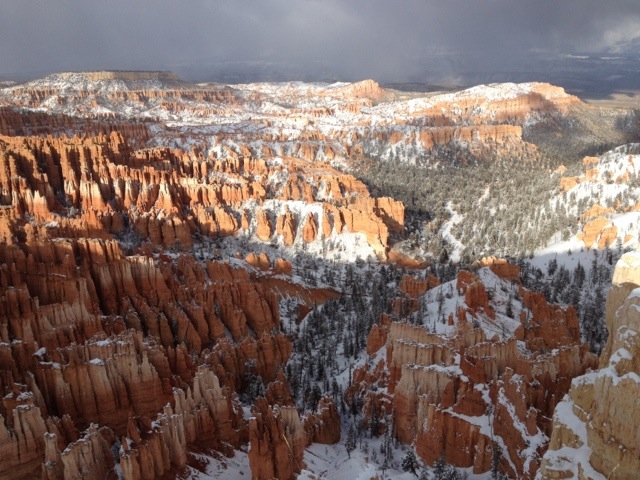 The next trail took us down into the ravine, where muddy clay and boots squishing were common sensations.
As the snow melted into the orange clay, it looked quite a bit like someone had spilled large quantities of Thai Ice Tea on the trail…boba is still an extra $0.50 :P Too bad I didn't take a picture of that.
Throughout the afternoon, we hiked throughout most of the amphitheater region and called it a day.
Fun facts
1. According to the promotional materials, Bryce Canyon is actually not a canyon, it's a natural amphitheater…how misleading!
2. What I considered a snowstorm earlier, the locals called it a "mild flurry".