KC Supports Entrepreneurs: My First Day in Kansas City
Kansas City definitely doesn't have most entrepreneurs, but it does have a community that is receptive and welcoming to entrepreneurs.
Where I've Been
Silicon Valley has been my home for the past summer, and I've been there many times before. I went to Stanford to attend Startup School in 2007, where I heard from entrepreneurs like Mark Zuckerberg, Paul Buchheit, and Paul Graham. In 2009, I went to San Francisco to attend the Apple Worldwide Developers Conference (WWDC) on a Student Scholarship. That was the first year the iOS App Store existed. I've been to every WWDC since, at Moscone West every year.
In 2010, I went to Ho Chi Minh City (Saigon), Vietnam. I met a lot of entrepreneurs there, and visited some software companies in the area. I formed my own development team and worked on mobile apps for a year.
So I bring a unique perspective to Kansas City; one informed by the hacker culture in both Silicon Valley and Ho Chi Minh City.
The Hacker House at 4428 State Line Rd
The address of Ben Barreth's Hacker House is public info:
4428 State Line Rd
Kansas City, KS 66103
I'm posting it here partly because so many people have asked; and the answer is repeated over and over again. We welcome visitors, so if you're a hacker in the area, drop in and say hello.
I've now been in Kansas City for more than a full day, staying at this 4-bedroom Hacker House. In my bedroom, the house features a comfy bunk-bed, and I was provided with a mattress, sheets, and comforter. With the heat, it's warm enough. We keep the heat on most of the day, and it works very well. In fact, thanks to the heat, it's probably warmer in here than in my home in California.
On Tuesday, I went to check out the Google Fiber Space. Here's a video showing the space:
Here's what it looks like: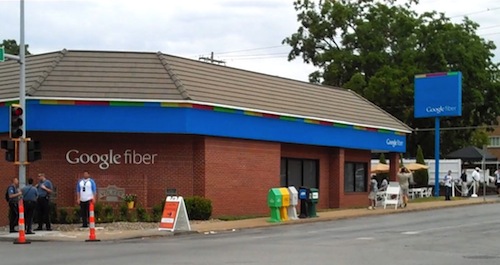 For more photos of the space, go to the official Google Fiber "Cities" page and scroll down.
1 Million Cups and #KCSV
This morning, I woke up around 8am to attend #1MC (1 Million Cups) at 9am. It's an event for Kansas City entrepreneurs to speak and discuss. This time was special: it's their last event until Jan 9th, so it's the last one of 2012. It's also the first time the event has been held in the Google Fiber Space's event room. Normally, it's held at the Kauffman Foundation, but they're closed for the holidays. (Sidenote: I've also heard that some coffeeshops are already closed for the holidays, which is odd.)
I'm told there were a record number of people at 1MC today: 167.
At 1MC, some students from the University of Kansas (KU) came to talk about their club. They want to be like Stanford and partner with the startups in the new community.
One of the guys behind KCSV is Matthew Marcus, the CTO/Co-founder of Local Ruckus, a startup based here. He owns a building that looks like a house, but is actually commercial space. But since it looks like a house, he was able to get Google Fiber. So the building serves as the office of Local Ruckus:
4454 State Line Rd.
Kansas City, KS 66103
One fascinating thing is the degree to which Twitter has caught on here. Everyone is on Twitter, including the mayor. Of course, Local Ruckus is, too: @LocalRuckus.
The KCSV meeting itself was led by Adam Arredondo, the other co-founder of Local Ruckus. There were about 40 people. After the meeting, I went out to lunch with people interested in helping entrepreneurs, including a local politician.
What Startups Need
It's the big question that the community is trying to answer: What do startups need?
Mike is an entrepreneur from Boston who wants to move here with his team. Including him, they are 4 people, and they want to rent a hacker house to themselves. It's important to be practical, and I'm glad he is: he's spreading the word that he's looking for a house.
Hackers also need food, as mundane as that sounds. Anne, the politician I mentioned earlier, was very helpful in this regard. Some time before I arrived, she brought a bunch of food to the house– including many boxes of frozen burritos.
I like that. It's much better to do something concrete, than to just provide some vague hand-waving of support. Like anywhere, there are a lot more talkers than doers.
So have I been convinced to come back? No. But could that happen in the next few days? Yes, it's possible.