Marvin, Punchd, and Moving to Mountain View: Greengar's Second Week in 500 Startups
Last week I wrote about our reasons for joining 500 Startups.  Today I'd like to write a bit about what happened during our second week: connecting with mentors, learning from alumni, and moving down to the Peninsula. First: our mentor meeting with Marvin Liao on Tuesday.
Among other things, Marvin told us to make sure we have a really good filter when listening to mentors. Most of the time, what they say is wrong. They don't understand our business the way that we do. Marvin has great energy and tends to be louder than most of the people I've talked with. Our initial mentor meeting was scheduled for half an hour, but we went slightly over.
On Thursday, we had an off-the-record fireside chat with the founders of Punchd. They were in the first batch of 500, and they were acquired by Google just months after graduating. It was very cool to meet the three of them: Xander Pollock, Niket Desai, and Reed Morse: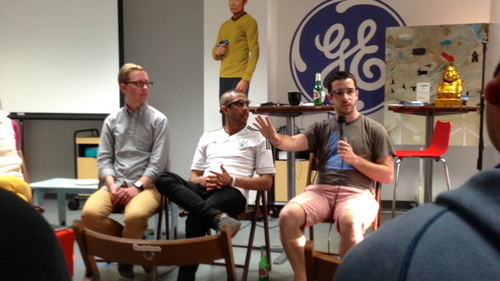 I was impressed that, though we hadn't met in person, Niket already knew me due to my apps! That's what I love about being in this industry: having huge reach. I love to distribute stuff that I build, especially to people I don't know yet. Reed actually has my Color ID app installed on his iPhone 5 – before we even met!
One thing I learned is that whenever you're not in control of your company, you have to play by someone else's rules. They might say you'll have independence, but you don't. They add friction. Even though the Punchd team is now at Google, they love to chat with startups like us.
Two of them went to Cal Poly – which I believe is only a few hours from where I grew up in LA. We also have a mutual friend. Silicon Valley is a small place.
I spent my Saturday making major progress on our new app, an MVP built on the Smartboard Platform. It was a great feeling to be able to focus without interacting with others. I'm doing a complete redesign from what I'd initially started with. Want to beta test it? Leave a comment.
I still have my apartment in San Francisco, but I'm trying to decide what to do with it. However, my apartment in Mountain View is shared with the other two Greengars. I'm here in Mountain View for the summer accelerator program. But after the summer, perhaps I'll go back to the city.