500 Startups in 10 Photos: Batch 6 Final Recap
Batch 6, the latest cohort, concluded 2 weeks ago. Some might say that my startup has graduated. Indeed, it's a bit like finishing school. Since then I've contemplated how to wrap up my 500 Startups experience. Back when the program started, I wrote about Week One. That was a fairly text-heavy post with just one photo. So let's try the other thing: a recap of my 500 experience in ten photos.
Hi, I'm Elliot. I founded GreenGar, a startup that builds a collaborative mobile Whiteboard app. With my co-founder Thuy and lead developer Long, we joined 500 Startups Batch 6 and then proceeded to take over the world.
If you haven't heard of 500 Startups: It's a family that offers a four-month accelerator program for technology startups. That means they provide connections, mentorship, and a bit of cash to new tech companies, in hopes of "blowing them up!"
To get into the program, you need to apply online.
Here are 10 moments from my 500 Startups experience:
1. Panel at Stanford University – July 13, 2013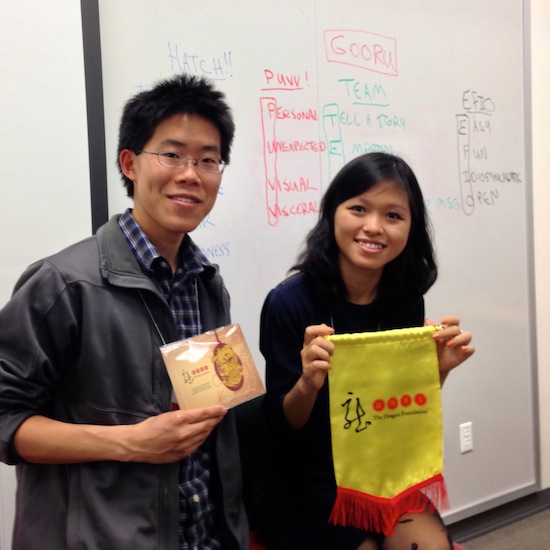 Me with GreenGar co-founder Thuy Truong at Stanford University (banner from The Dragon Foundation)
This first one is a bit of an oddball: it wasn't actually part of 500 Startups, though it did happen while we were in the program. One of our advisors, Tom Kosnik, invited us to speak on a panel about "Using Social Media to Change the World." In the audience were entrepreneurial students from Hong Kong.
2. Pitch Prep – July 2, 2013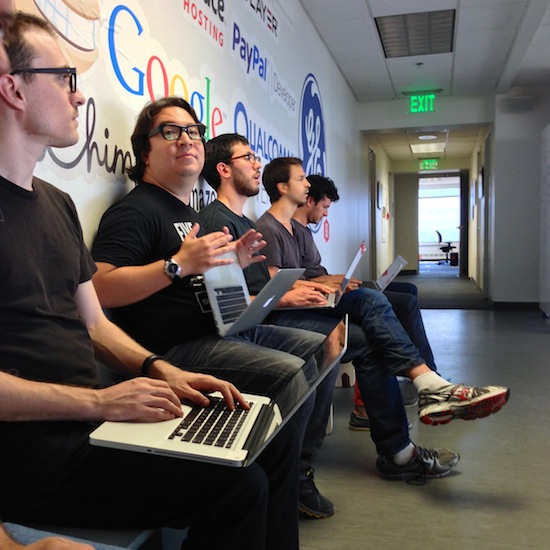 It's MacBooks all the way down… Unda co-founder Oscar Yasser Noriega looking at the camera
I snapped this photo near the beginning of the intense pitch-preparation marathons that we endured during the last month of 500.
3. Wielding the Samurai Sword – July 24, 2013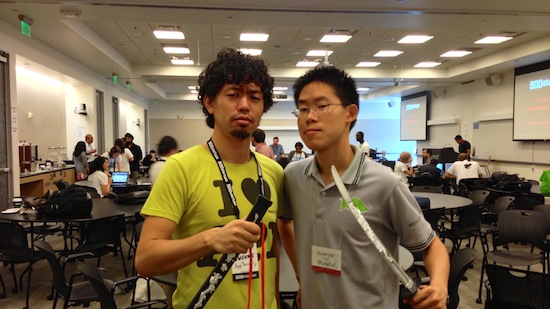 AppSocially founder Yusuke Takahashi fears my swordsmanship
500 Startups wraps up each accelerator batch with Demo Days. Right– Demo Days. Not one Demo Day. Not two Demo Days. But three (3) separate Demo Days: in Mountain View, San Francisco, and New York. I snapped a pic with Yusuke (pronounced "use case" ;p) at 500S Demo Day MTV*
*local abbreviation for Mt. View
4. Masi Oka (Hiro Nakamura of Heroes)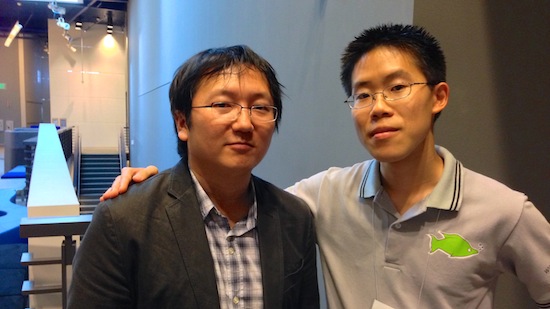 Nailed the facial expression.
Masi spoke at 500S, and he also attended Demo Day. Protip: He HATES having people take his photo. Yet it happens about ten thousand times per day. He tries to frown harder each time.
But seriously, he's actually a very cool guy and quite interested in the tech startup scene. For example, he likes Whiteboard particularly because it's enjoyed by children and thus enriches families. In a catchphrase: Family Tech. Rad!
5. Tim Draper, The Riskmaster – July 25, 2013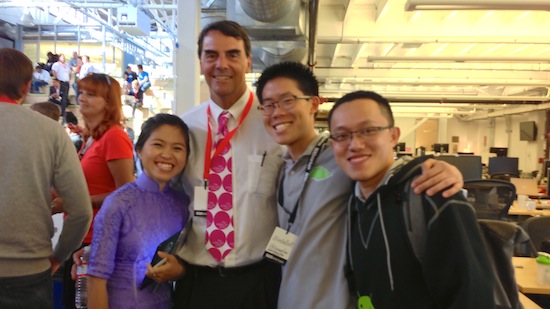 Mr. Draper (he's tall!) with the GreenGar team. At right: lead developer Long Trieu
He calls himself The Riskmaster, which is strange but memorable. He attended Demo Day in San Francisco. 500S is like strapping your professional network to a rocketship. It's a great way to establish connections in Silicon Valley.
6. The 500 Family: Other Founders – August 6, 2013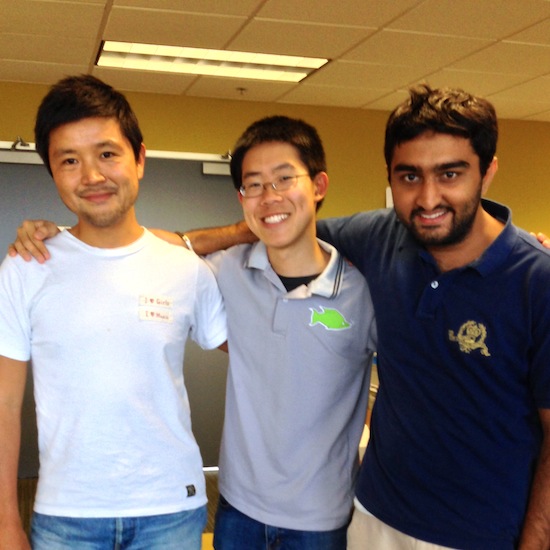 Unda co-founder Nao Tokui, me, and PriceBaba co-founder Tirthesh "TG" Ganatra
500 Startups calls itself a family, and the new batch of founders (and non-founders!) took this to heart.
When I enrolled at USC, I joined the Trojan Family, and it was awesome. It might seem like a simple thing, but it's nice to be part of a family. It means we're accepted for who we are. And given that nine out of ten startups fail, it's important to have some unconditional love and support.
7. Tavo "Jose" Zambrano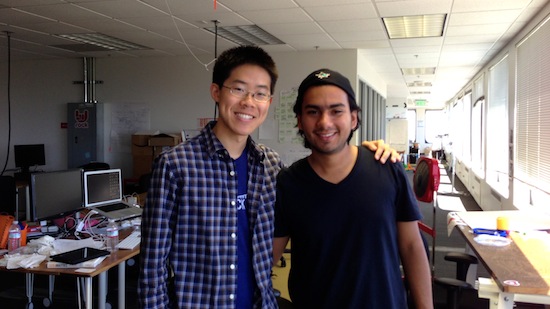 Me with TasteSpace co-founder Tavo Zambrano
I recently discovered that Tavo has called himself "Jose" in the past. lol
8. New York, "The Big Apple" – July 31, 2013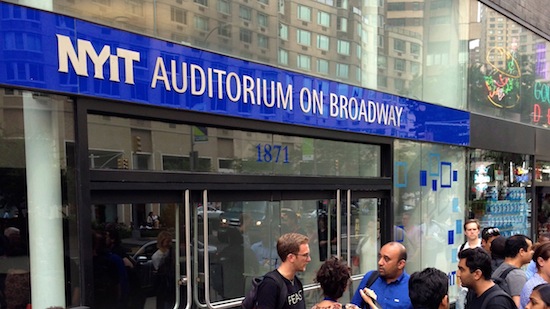 A swell place to end the summer: NYIT Auditorium on Broadway.
This was my second time in New York. Not only did we have a terrific Demo Day, but I also had the opportunity to visit the Empire State Building, the NY Public Library, and the Statue of Liberty!
9. My Pitch
My co-founder agreed to let me give our last Demo Day pitch. She pitched in Mountain View and San Francisco, so I felt I should give it a try. And somehow, I had a good feeling about it. Normally, I'm quite shy. I'm certainly no public speaker. I can talk quite fluidly one-on-one; but in a group situation, I'm the weird awkward guy in the corner who never pipes up with anything interesting. And I'm normally not much of a storyteller.
But that day was different. As I presented, I exuded energy into the room. It was amazing, especially since the audience was otherwise quite "dead" and passive. Multiple founders who pitched before me said that they were dreadfully disappointed by how uninterested the audience seemed to be.
That only toughened my resolve. I knew I only had one shot. It was being not only livestreamed online, but recorded as well. It would be something that would live with me forever.
So I got up there and masterfully delivered the exact thing I wanted to convey.
Lots of people, both founders and attendees, came up and congratulated me afterward. Some said they truly enjoyed my pitch, while at least five separate people compared me to Steve Jobs (!)
I'm humbled by this. I actually did meet Steve once, at the Apple Store in Palo Alto. His ability to engage an audience is legendary, so the fact that I could pull off even a fraction of his greatness is truly inspiring to me.
10. Post-Pitch Celebration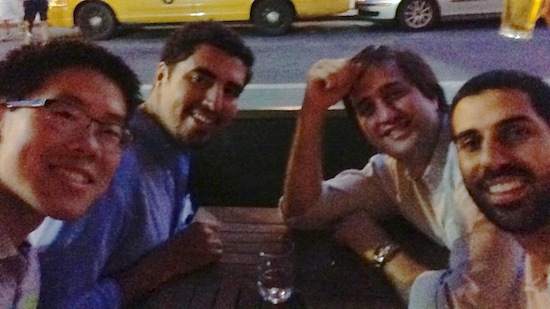 My idea of a celebration is a pleasant dinner with friends: me, Tamatem co-founder Hussam Hammo, Ignacio, and dakwak BizDev Manager Hani Morrar
The 500 Family went out to dinner and other shenanigans in New York.
One particularly fun extra: playing Deck of Thieves late into the night with Long Trieu and AppSocially developer Shuichi.
11. Bonus: Reppin' our Binpress shirts – August 9, 2013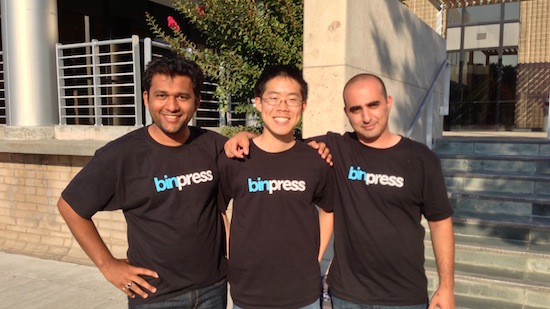 From left to right: Pricebaba co-founder Annkur, me, and Binpress CEO Adam Benayoun
During the batch, the GreenGar team worked in the same room as Pricebaba and Binpress. So when it came time for both of them to return to their home countries– India and Israel, respectively– we decided to go out for one final meal together. Afterward, we snapped this photo of the three of us, sporting our quality Binpress t-shirts!
So that covers it: a whirlwind wrap-up of my personal 500 Startups experience.
Batch 007 applications have closed. Keep an eye out for future batches!
And if you get in, I'm looking forward to seeing you top our batch video :)