Keep the Trojans in the Coliseum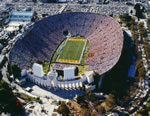 Mike Garrett, Director of Athletics at USC, wrote an open letter to the Coliseum Commission which is intriguing and a little shocking to me. I've gone to only a few games at the Coliseum, and every time I noticed that it wasn't kept up as well as it should be. It seemed outdated. Stuff was cheap. Things were broken. I'm sure this is still true today. The amazing thing is that it's still so wonderful, even with all its extreme shortcomings. Indeed, the fans and Trojan spirit more than make up for any of the stadium's problems. But Mike's letter changed how I viewed the situation. Essentially, I had thought the Coliseum was basically USC's. All of the problems that it has? USC's fault. In reality, this is not so much the case. Here's a brief excerpt from the letter.
The University of Southern California has been negotiating diligently for months, trying to renew USC's lease with the Los Angeles Memorial Coliseum, and trying to get guarantees that USC's football team and fans can enjoy home games in a completely renovated and improved stadium.

Unfortunately, talks are at an impasse, and right now we have no lease for the Coliseum next year. As a precaution, USC has negotiated a lease with the Rose Bowl to ensure that we have an acceptable stadium in which to play our home football games for the foreseeable future.

But this arrangement is not what we want. We want our football program to remain at the Coliseum. And we want the Coliseum Commission – our "landlords" who manage the stadium – to begin the long overdue rehabilitation of the Coliseum.

(Read the full letter, including info on how to help, here.)
The whole idea of having "landlords" is troubling to me. When a person rents an apartment or house and has a landlord, they don't own it. Thus, they don't take care of it. The same problem occurs with rented laptops and other computers. They will just do the absolute bare minimum to keep from getting fined. It is not only neutral, but actually against their interests to invest any more effort than that in keeping it in good shape. Since USC is the Coliseum's main client, it would be best in my mind if USC owned it. Am I right?